I know, it is hot outside. So, why am I giving you my Best Broccoli Soup recipe now? Because I am seeing a lot of beautiful fresh broccoli and it is on sale!
Don't think that you can only use fresh broccoli though. This Best Broccoli Soup recipe works great and tastes delicious with frozen broccoli too!
I LOVE VERSATILE RECIPES – ESPECIALLY THOSE THAT ARE BUDGET FRIENDLY!
So, if you come across a good sale on fresh broccoli, use it. Otherwise, if frozen is more economical – use it!
In the following recipe, the directions say to blend the soup after it is cooked. I love the consistency of blended soup but if you prefer a chunkier soup, don't blend it.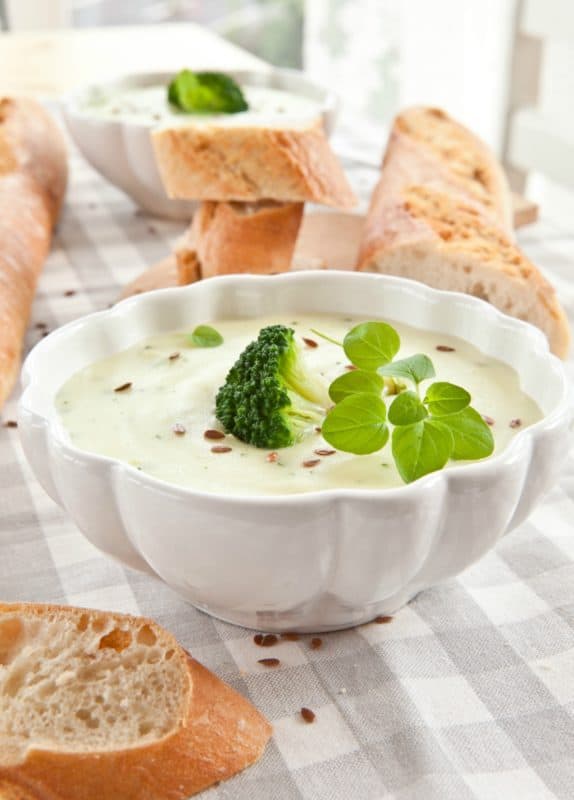 One thing I love about soups is the comfort of the meal. I mean, all you have to do is add some bread and maybe a salad and voila!
Simple and Elegant.
Nutritious and delicious.
You might want to try pairing the Best Broccoli Soup recipe with Carrot Raisin Muffins, Gluten Free Strawberry Muffins or even serve it in Sourdough Bread Bowls.
I guarantee that you and yours will not be disappointed!
Best Broccoli Soup Recipe
yield 6 cups
Ingredients
1 c. onion, finely chopped
6 Tbsp butter
10 Tbsp flour
2 tsp salt
1/2 tsp pepper
3 c. chicken broth -

 

make your own!
2 c. milk
1 bunch broccoli, cleaned and chopped or 1 package frozen broccoli, thawed
2 c. grated cheddar cheese

I buy my real salt, herbs and spices from my affiliate, Starwest Botanicals - many of their herbs & spices are organic, and I think they are more aromatic and full flavored than any others.
Instructions
Saute the onions in the butter.
When translucent, add the flour stirring quickly and constantly for the flour to absorb all the butter.
Quickly add the milk and stir well.
Add the chicken broth, broccoli and cheese - heat thoroughly.
Notes
Blended soups are smooth and creamy. If you prefer a chunkier soup, don't blend it.