Do you remember the bread and butter pickles that your grandmother used to make? Well, I don't but, if she had, I am sure this recipe is what they would have tasted like! No joke, these are absolutely delicious. I made about sixteen quarts of bread and butter pickles last year and all but two quarts are gone. The only reason those survived was because they were hidden behind some homemade dill pickles!
Bread and butter pickles are a popular throughout the south and this recipe is adapted from the Mary Mac's Tea Room Cookbook available from my affiliate. Mary Mac's is a 65 yr old tea room in Atlanta, Ga. that offers southern cooking at its finest! It is a quaint place filled with history and many celebrities have visited leaving autographed pictures behind. Instead of giving your order to the waiter/waitress, you fill out your own menu ticket selecting from the daily menu. This was a favorite place when I attended Ga. Baptist Nursing School not only for the good food, but also because they gave a generous student discount!
I love recipes that make people think you slaved in the kitchen when in reality, it was easy peasy. And, this bread and butter pickles recipe is that type of recipe! Using the food processor makes slicing the pickles a breeze but even if you don't have one, it really does not take that long. I also use a potato peeler to peel the cucumbers which is another time saver.
Our garden fresh cucumbers are just beginning to come in and we are enjoying cucumber sandwiches and I am going to make a lot more bread and butter pickles this year.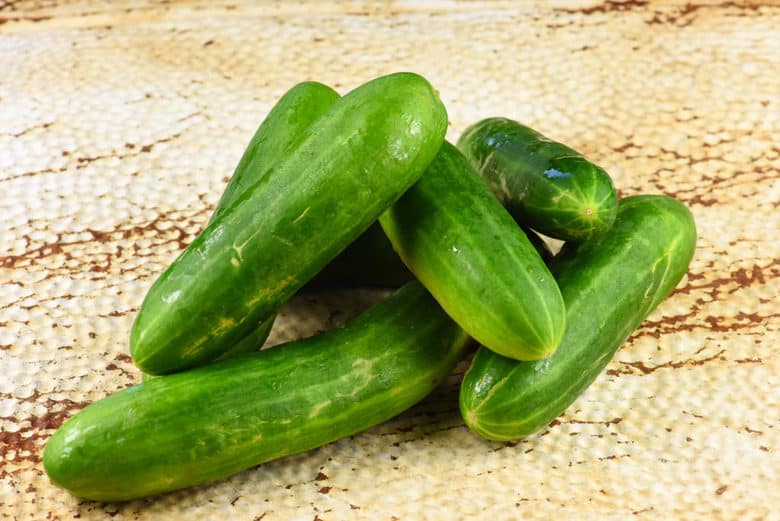 Bread and Butter Pickles
yield 3 quarts or 7 pints
Ingredients
4 lbs cucumbers, peeled
3 large cucumbers, halved and sliced 1/4 inch thick
1/2 cup plus 2 Tbsp salt
4 c. white vinegar
4 c. sugar
1 Tbsp yellow mustard seed
1 Tbsp celery seed
1/8 tsp ground cayenne pepper

I buy my real salt, herbs and spices from my affiliate, Starwest Botanicals - because of their superior quality. Their herbs & spices are organic, non-irradiated plus, I think they are more aromatic and full flavored than any others.
Instructions
Thinly slice the cucumbers. Place in a large pot. Add the onions and 2 Tbsp salt and toss to combine. Let stand for 3 hrs.
Drain the cucumber mixture and rinse twice.
Combine the vinegar, sugar, spices and 1/2 c. salt in a large heavy saucepan - bring to a boil over medium-high heat.
Add the cucumber mixture and return to a boil.
Pack the veggies and pour the hot liquid into clean, hot, sterile glass jars leaving 1/4 inch headspace.
Wipe the jar rims.
Top with the lids and rings and process for 10 minutes in a boiling water bath.
Let the jars sit for one week before opening.
Pickles will keep for a year.
Last year, my dill pickles turned out mushy and were honestly a big disappointment but, the bread and butter pickles made up for them! So, if you have a never fail dill pickle recipe, please share it with me!