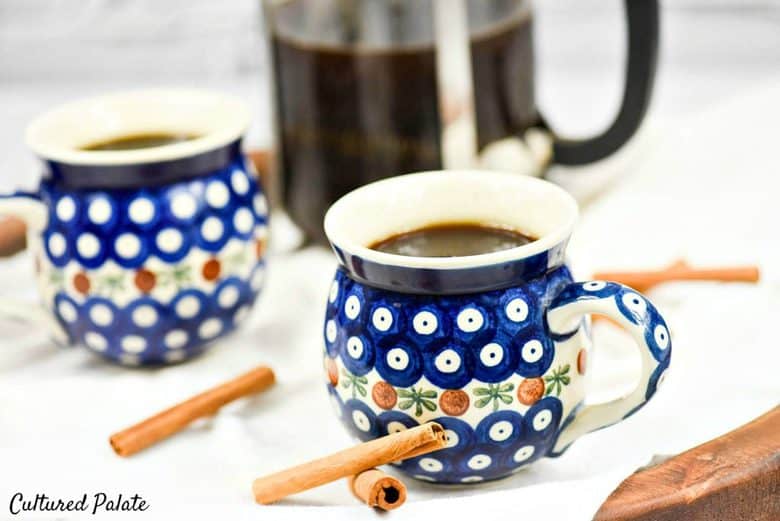 I love my morning coffee. In fact, everyone around here knows that as soon as I get out of bed in the morning, I'm headed to the coffee pot. And, you better not get in this momma's way! Flavored coffees are always good but there is just something special about Cinnamon Maple Coffee.
Call it fall. Call it the holiday season. Whatever you call it, there is just nothing like cinnamon and pure maple syrup together.
I love the fall season and especially moving toward the holidays. The music, the smells, the decorations – I love it all!
One of my favorite smells this time of year is cinnamon. It just screams HOLIDAY TIME!
As if the smell and taste were not enough – did you know that cinnamon is actually good for you?
Yep, I am going to give you reasons that you should stop right now and go make yourself some Cinnamon Maple Coffee!
10 HEALTH BENEFITS OF CINNAMON
1. HIGH IN ANTIOXIDANTS
Cinnamon is high in antioxidants that reduce free radical damage and prevent signs of aging. As of now, researchers have identified over 41 different antioxidant compounds in cinnamon.
There are primarily three main antioxidants found in cinnamon – polyphenols, phenolic acid, and flavonoids. These antioxidants fight the effects of stress. They and are much like antioxidants found in berries, dark chocolate and red wine.
2. ENCOURAGES A HEALTHY HEART
Cinnamon has been found to help lower LDL (bad) cholesterol while helping maintain a stable HDL (good) cholesterol. Cinnamon has been shown to lower blood pressure, incident of stroke, helps the blood to coagulate. This means that you are able to stop bleeding and form blood clots.
3. HELPS FIGHT DIABETES
Cinnamon helps lower blood sugar levels and makes the body more sensitive to insulin. Insulin is the hormone that helps control blood sugar levels and keep them at a constant level.
Studies have shown that people with type 2 diabetes can experience significant positive effects on blood sugar levels by simply taking cinnamon extract as a supplement.
4. HELPS FIGHT INFLAMMATION
Researchers have found 7 different flavonoids in cinnamon which help reduce inflammation in the body. This effect is especially helpful in pain management, allergic reactions and muscle soreness.
5. MAY HELP LOWER THE RISK FOR CANCER
Studies have shown that cinnamaldehyde, found in cinnamon, is responsible for many of  its health benefits. Cinnamaldehyde has been discovered to have the ability to inhibit cancerous tumor growth, It also helps to protect DNA from damage. Further, it has been found that it encourages apoptosis which causes the cancerous cells to self-destruct.
6. HELPS FIGHT INFECTIONS
Many of the antimicrobial benefits of cinnamon are found in its essential oil. Cinnamon essential oil is used in many countries to help build and support the body's immune system.
7. MAY HELP PREVENT OR INHIBIT CANDIDA GROWTH
Studies have shown that cinnamon has strong anti-fungal properties. These properites can help stop and even cure Candida overgrowth in the digestive system. Candida Albicans is the yeast that causes Candida related symptoms in the digestive tract and in the immune system.
Improvement in candida yeast levels and a reduction in symptoms have been associated with the intake of cinnamon extract or cinnamon essential oil. Cinnamon is a natural solution to help fight cadida by boosting the immune system and fighting inflammation.
8. HELPS FIGHT ALLERGIES
By reducing inflammation and fighting the histamine reactions in the body, cinnamon has been shown to help fight allergies.
9. PROTECTS BRAIN FUNCTION
Studies show that because of the antioxidants in cinnamon and their ability to protect the body, it can help prevent neurological disorders like Parkinson's and Alzheimer's.
Ingesting cinnamon activates neuro-protective proteins. These protect brain cells from mutation and undergoing damage. This helps protect the brain function.
10. ENCOURAGES DENTAL HEALTH
Studies have also shown that because cinnamon has such powerful antimicrobial properties, it protects the mouth from bacteria that causes bad breath and tooth decay. Cinnamon essential oil can be used to naturally fight the bacteria in the mouth and acts as a natural anti-bacterial mouthwash.
BESIDES ALL THAT….
"In addition to being an antioxidant, anti-inflammatory, anti-diabetic, antimicrobial, anticancer, lipid-lowering, and cardiovascular-disease-lowering compound, cinnamon has also been reported to have activities against neurological disorders, such as Parkinson's and Alzheimer's diseases." ncbi
Now you have a reason to make yourself a Cinnamon Maple Coffee or a Cinnamon Maple Latte!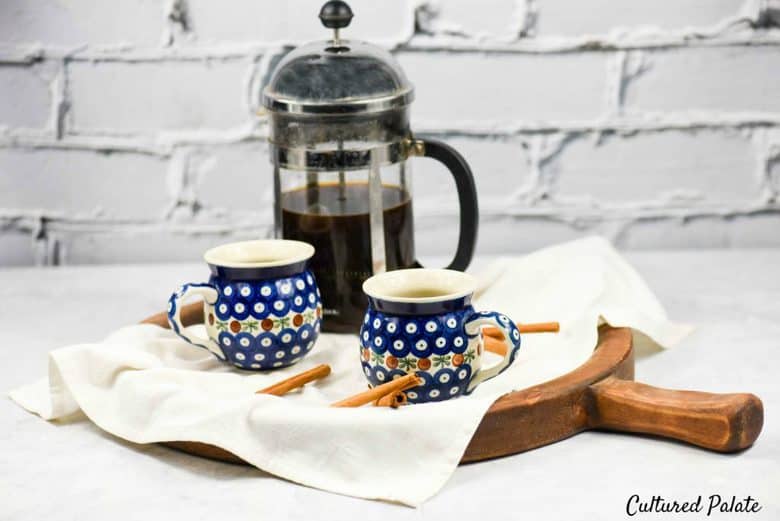 CINNAMON MAPLE COFFEE OR LATTE
I have tried many different ways of making a cinnamon flavored coffee. And, you are free to try any of them – adding cinnamon to your cup of coffee, using an immersion blender, mixing the cinnamon and syrup first…
But, if you just add the cinnamon to the cup of brewed coffee, you will end up with a thick sludge in the bottom of your cup. Its not the best way to end a great tasting cup of coffee!
In fact, it is just plain yuck!
So, after trial and error, I finally found that if you add 1/4 tsp cinnamon to the coffee grounds for each cup of coffee you plan to make and then brew it, the sludge is greatly reduced if not done away with all together – depending on your coffee maker.
This amount can be adjusted for your personal taste. I add 1 tsp pure maple syrup to each cup before pouring the coffee in, stir and enjoy!
Specialty coffee has never been so delicious, economical or healthy!
Cinnamon Maple Coffee or Latte
yield 6 cups coffee
Move over specialty coffee shops, homemade is here!
Ingredients
6 Tbsp coffee or coffee grounds to make the desired number of cups
6 cups water  or water for the desired amount of coffee
1 1/2 tsp cinnamon or 1/4 tsp cinnamon per cup of coffee to be made
6 tsp pure maple syrup or 1 tsp pure maple syrup per cup
For a Latte: 3/4 cup milk - you can use any milk and even almond milk works
I buy my spices from my affiliate, Starwest Botanicals - many of their herbs & spices are organic, and I think they are more aromatic and full flavored than any others.
Instructions
Add coffee grounds and cinnamon to brew basket and brew coffee.
Add 1 tsp pure maple syrup to each coffee cup.
Pour hot coffee in each cup over maple syrup.
Stir and enjoy!
To make a Latte:
Pour milk into a mason jar, put the top on and shake until a foam begins to form.
Remove the top and heat milk in the microwave for about 30 - 45 seconds. It should be hot to the touch but not boiling. Watch it carefully to prevent it from bubbling over.
To each cup, add maple syrup, coffee and top with foamy milk. You can spoon the foam on top or pour it on.
Sprinkle with cinnamon and serve.