I read somewhere that each home should have their own house dressing, just like restaurants. That convinced me that I want my meals to be like a fine restaurant. So, today, I am going to show you how to make salad dressing the easy way!
Since I have been on the GAPS diet for awhile with such phenomenal results, I have become very conscious of the ingredients in our foods. If it is not homemade, I read the label. I have been shocked at some of what I thought were healthy foods – they turned out to be not so healthy.
Ugh!- it is hard to believe how many ingredients some processed foods have! Not to mention how difficult some are to pronounce!
One food that is particularly filled with unnecessary ingredients is salad dressing. And, even the "healthier" brands will have canola oil which can go rancid quickly. This causes the manufacturers to use a deodorizing process to cover up the smell – this process also causes trans fats to be produced!
So, I would like to share with you my basic house salad dressing and teach you how to make salad dressing – it really is easy peasy!
Please keep in mind that the following recipe is just a start. Don't be afraid to use your own imagination and try different spice blends. The recipe follows the video along with resources that you will see me use.
HOW TO MAKE SALAD DRESSING THE EASY WAY
Video Resources:
These are items, available from my affiliate, that I use to make homemade salad dressing. If you are like me, you love to see what others use and enjoy. So, these links will take you to amazon or my trusted spice provider.
Before I give you the basic recipe, let me remind you that this is a basic recipe to get you started. Use your imagination … rosemary, sage, Italian blends, honey and mustard – the possibilities are endless! You can even make a creamy dressing by cutting the  raw apple cider vinegar down to 1/4 c. and adding cultured sour cream to the basic recipe.
This recipe is easily doubles, tripled, quadrupled so you always have some on hand. If you make it ahead the spices blend together so that it is even more delicious!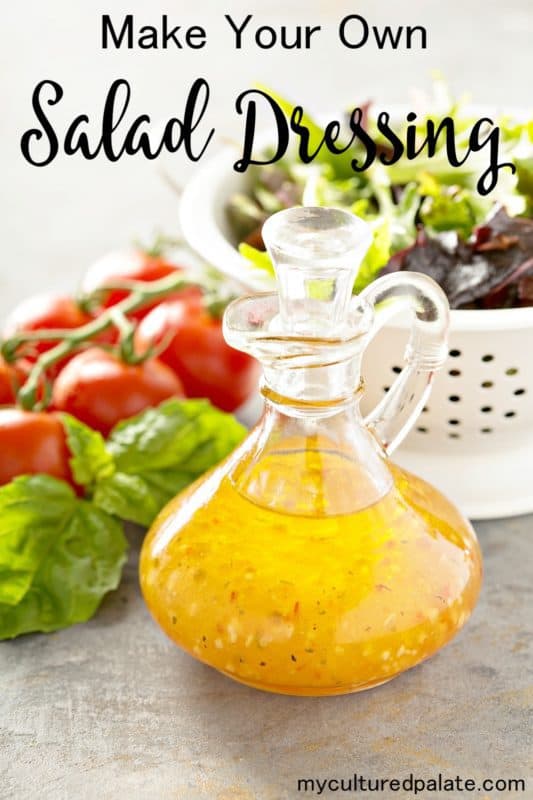 Homemade Salad Dressing
yield 1 1/2 cups
Ingredients
Ingredients
1 c. extra virgin olive oil
1/2 c. raw apple cider vinegar
1 tsp sea salt
2 cloves garlic, minced
1 tsp basil
1 tsp oregano***I buy all my spices and real salt from my affiliate partner,

 

Starwest Botanicals, because of their superior quality. Their herbs & spices are organic, non-irradiated plus, I think they are more aromatic and full flavored than any others.
Instructions
Mix all ingredients together in a bowl and whisk to blend thoroughly.
Pour over your salad and enjoy!