We had our last harvest of the year on Saturday. All in one fell swoop the reds, Aglianico and Montepulciano were gone! It is a mixed bag – joy and relief that the grapes are out of the field (without damage from a hailstorm) and sadness that now, we must wait another year for more grapes – I guess it is not so mixed – joy and relief wins!
Part of my preparation for the final harvest is planning the harvest party. With most of the children, spouses and grandchildren here, a lot of food is eaten and a lot of celebrating is done! So, dessert is a must – think 80/20 Rule and don't worry, I tell myself. Plus, I knew just what I wanted to prepare – Buttermilk Pie with Kefir.
Buttermilk Pie became one of my favorites years ago while I was in nursing school in Atlanta, Georgia. Friends and I would go to Mary Mac's Tea Room for lunch – they gave a nice discount to students and we took advantage of it at least once a week! If you are ever in Atlanta and want a nostalgic restaurant, visited by many celebrities – visit Mary Mac's. I hope they still let you write out your own ticket for the meal!
Now that I am preparing more traditional foods with little (preferably NO refined) sugar, my Buttermilk Pie recipe has been in the recipe basket untouched. This was my chance to at the least convert the refined sugar to sucanat and see how it turned out.
Ever since I bought the book from my affiliate, "Baking with Julia", I have wanted to bake pies. I have only had the book for about 2 weeks and am in love with it! When it first arrived, I began reading it from the beginning. The first section is "Baking Basics" and is so interesting! Then comes "Batter and Doughs – The Basics" which gives 10 recipes claiming that if you can master these, you may award yourself a Cordon Bleu – I am working on my Cordon Bleu!
Anyway, how does "Baking with Julia" relate to pies? Well, "Pie Crust" is the first recipe in the section. And, let me just say, the recipe made the best and flakiest pie crust I have ever made – it was delicious.
So, in an attempt to make a healthy Buttermilk Pie, I made some adjustments so that the end result only barely resembles my originally written recipe but the taste was the same  – reminiscent of the Mary Mac's days. Everyone loved them even, with my "healthy" changes – I wish you could try a bite!
As I have said before, I like recipes that use ingredients I have on hand. And, I don't know about you, but I do not normally have buttermilk on hand. But, I do have kefir which, by the way, is easy to make yourself. Here is a video on Making Kefir in your own kitchen with the instructions below the video if you don't want to take time to watch me do it. That was my first change, buttermilk to kefir.
Next came the sugar.
There comes a point at which I say, there are just some things you eat to enjoy, not to be healthy. That doesn't mean that I can't make them as healthy as possible but, I don't want to ruin the taste to make it the absolute most healthiest dish ever! That is what I did with my Buttermilk Pie recipe. I wanted to try one sweetened with honey. But, with so many people and 4 pies to make (plus everything else), I wimped out and only did a sucanat variation. I guess this means I have to bake more and try a honey sweetened version – I will let you know when I do!
As you can see from the photo below, the sucanat sweetened, Buttermilk Pie with Kefir (on the right) was much darker than the sugar sweetened pie on the left. Nevertheless, it was delicious and none was left!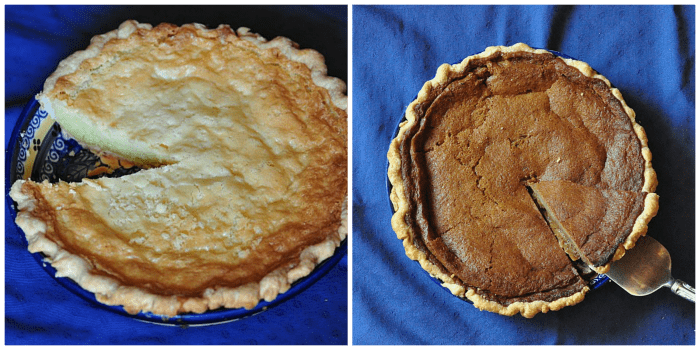 Now, for the recipe – Oh, wait, just a quick note: For 4 pies, I multiplied the recipe by 5 to fill all the pie crusts full since I have 9 1/2 inch pie plates.
Buttermilk Pie with Kefir
Ingredients
1 1/2 c. sucanat or raw sugar
8 Tbsp butter, softened
3 Tbsp unbleached flour
3 large eggs
1/2 tsp vanilla (make your own!)
1/2 c

 

kefir

 

(or you can use buttermilk!)
1/4 tsp salt
1 (9 inch) pie crust, unbaked
Instructions
Preheat oven to 400 F.
Beat sucanat (or sugar) and butter until light and fluffy - I used my hand mixer on medium.
Add the flour and salt and mix well.
Add the eggs one at a time beating well after each.
Add the vanilla and kefir (or buttermilk) and mix well.
Pour the filling into the unbaked pie shell and bake for 10 minutes.
Reduce the over temperature to 325 F and bake for 30 - 35 minutes longer until a fork inserted in the center comes out clean.
Remove from heat and allow to cool.
Serve and Enjoy!