I am a chocolate lover.
And, anything covered in chocolate is better.
Of course, you think of chocolate covered fruit (like chocolate covered bananas), chocolate covered pretzels – even chocolate covered bacon – oooh, I love it! It makes me happy just thinking about it.
I'm having a chocolate attack just writing about it. True, but hard to believe since I am full from dipping two pounds of strawberries three times! You know, licking fingers, cleaning up drips….
Inspired by Valentine's Day and wanting to do something special for the family I love, I went shopping fully intending to buy them all their own individual heart shaped box of candy.
Don't judge! I know the ingredients are not the healthiest. But, after all, it is Valentine's Day! I ignored the desire to make a healthier substitution and joined the folks on the Valentine's Day candy isle.
It took a while, but I finally found hearts with seven different pictures on the front! One for each child at home plus something else chocolaty for John. I was content that I had fulfilled my motherly privilege of buying candy for my family.
As I continued my shopping trip, I ended up in the produce section. Then, I spotted them – big beautiful strawberries! I think the red color caught my eye. So, I decided right then and there, that those strawberries needed some chocolate!
Finally, the conscience soothing I sought had been found!
Why? Because, I'm not talking just any old chocolate – I'm talking chocolate made with coconut oil!
If you have never used coconut oil before, now is the time to start! Available from my affiliate partner, extra virgin coconut oil is extracted from the meat of coconuts. While coconut oil is made up of 85% saturated fats, most of the saturated fats are medium chain triglycerides. They are metabolized differently than long chain triglycerides and help you feel satisfied when eating. They also increase the HDL (good cholesterol), help control body weight and reduce the risk of atherosclerosis.
Coconut oil is liquid in temperatures above 76° F so, you will want to keep these chocolate covered strawberries refrigerated until you are ready to serve them.
I dipped the strawberries three times and had chocolate left over – yeah!!! What I didn't eat, I saved for later. Just pour the leftover in a parchment paper dish, refrigerated until firm and break into pieces. What better way to get my daily coconut oil!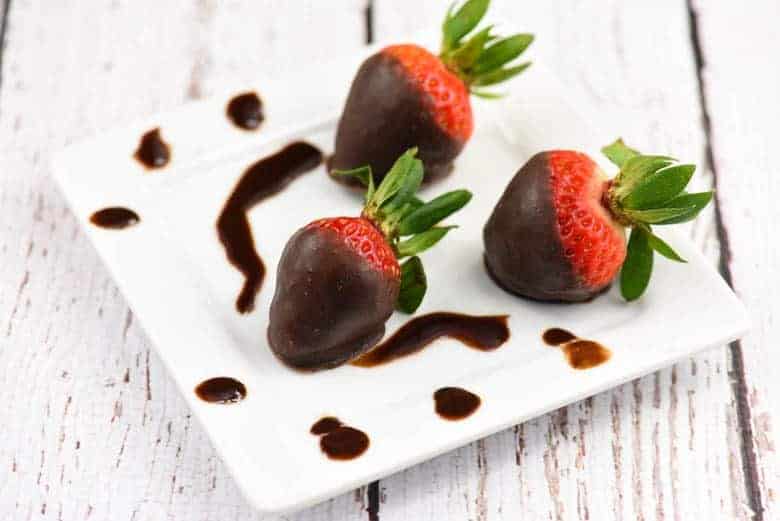 Healthy Chocolate Covered Strawberries
Ingredients
2 lbs strawberries
2 c. coconut oil, at room temperature (where to buy)
2/3 c. honey
2 tsp vanilla (make your own)
1/4 tsp sea salt
1/2 tsp cinnamon
1 c. cocoa powder
4 Tbsp espresso

I buy all my real salt, herbs and spices from my affiliate partner, Starwest Botanicals because they are organic, non-irradiated and are more flavorful and aromatic than other brands.
Instructions
If your coconut oil is solid, heat in the microwave in 1 minute increments or on the stove top until it is liquid.
Add the honey and vanilla - mix well.
Add in the remaining ingredients and mix well - I use my

 

immersion blender.
Holding each strawberry by the green leaves, dip into the chocolate and allow to drip slightly before placing it on a parchment lined cookie sheet.
Allow the chocolate to dry and harden (about 3 mins) and re-dip as desired - I did three layers.You can refrigerate between layers if desired.
Refrigerate until ready to serve.